Get 15% Off On Your First Order | Use Code: WELCOME15
Nettle leaves tea is known to be an excellent detoxifier – it can help you flush out toxins from your system, leaving you feeling lighter and more energetic.

Origin of The Tea
Ingredients
Taste Notes
Storage Instructions
How to brew?
Health Benefits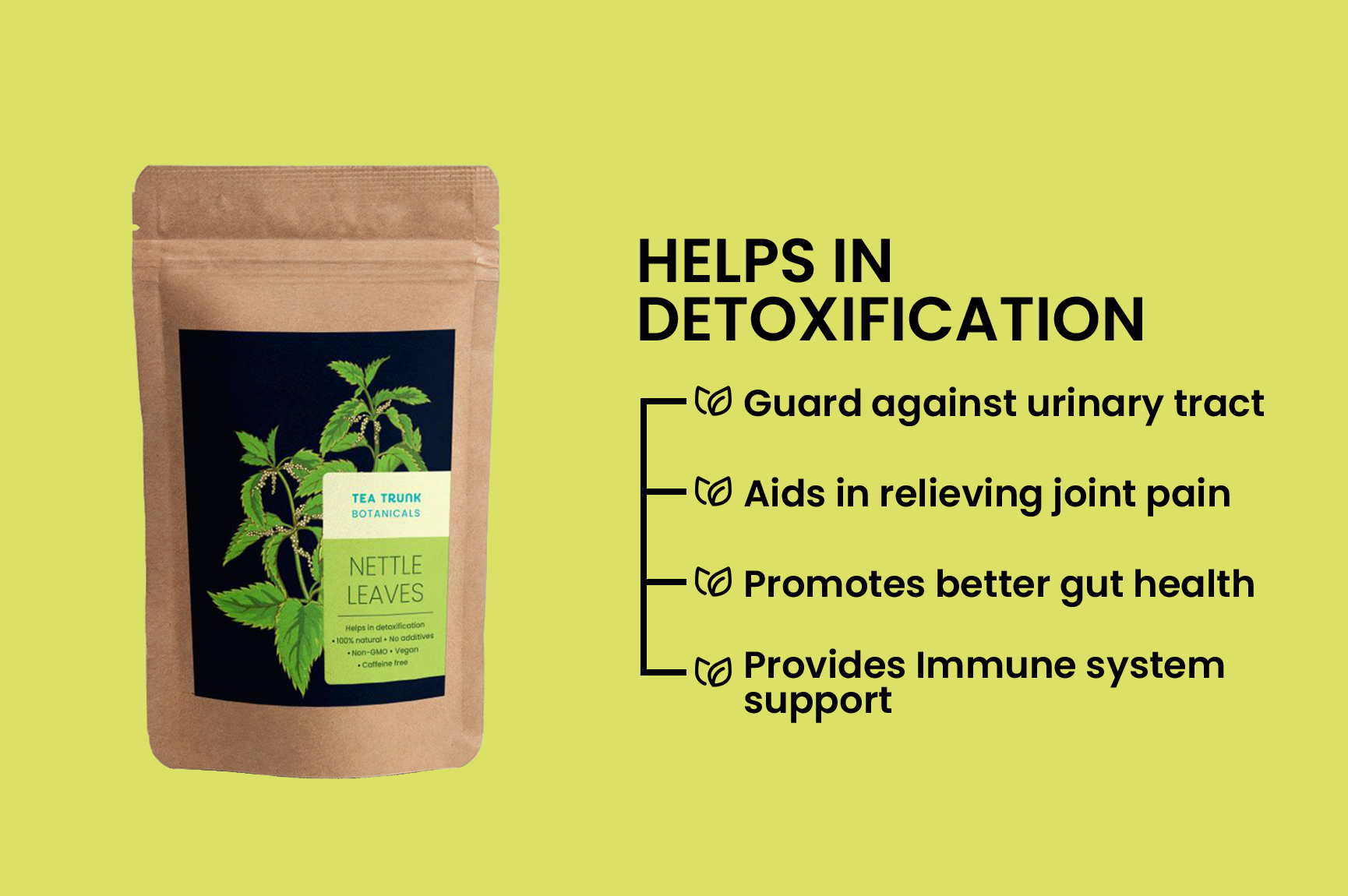 Our Story
Founded in 2013, Tea Trunk, led by India's first tea sommelier, curates the finest Indian tea leaves into unique blends. Our whole leaf, all-natural, and authentic teas are now among India's top 5 tea brands. Experience the freshest source of healthy, flavorful tea online, directly from the source.

"We make sure you enjoy good tea like it should be! Tea Trunk holds gourmet tea blends I crafted; enjoy them as much as I do. Take your pick for an authentic tea experience" - Snigdha Manchanda, Tea Sommelier & Founder
Excellent
Taste is normal, better than green tea but I personally loved the packaging too cz there was no plastic used plus this tea comes in the form of leaves which was a plus point for me! Also it replaces my detox water perfectly.🥰 Love it
A must try!
If you are a green tea lover you are gonna love it if not then you will get the hang of its taste in just a few cups. You should add this in your daily routine because it is a great detoxifier. I prefer it twice a day as it's caffeine free. You need to use a fine mess strainer for this one but as it has pure leaves it's worth the effort!
I found this Tea good for my hairs
I love the taste and I found a good benefit of this tea which made me to buy this product.Comes with loose tea and it helped me in my hair growth a lot .The packaging of the Tea is simply great .So I would highly recommend this Tea who so ever wanted to try out ..
The perfect flavour and value for money
This falls in the catagory of "great value for money". But, that's not it. This is mesmerizing and the flavour gives the perfect blended feeling of satisfaction and peace. It is a tool for de-stress therapy.
Invigorating
Make a light cup and add some honey. You can also make an entire water bottle full and consume it while you are at work even if it gets cold, just like detox water.